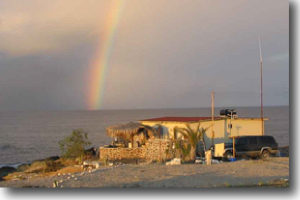 Your hosts Juan Arce Marron, Shari Bondy and their extended family and amigos invite you to come and share this undiscovered paradise with pristine long sandy beaches, dramatic cliffs, great fishing, diving, surfing, mountain biking, hiking, island tours, fabulous seafood and the friendliest folks in all Baja. There is something for everyone here, a wide variety of services and activities to suit every taste and budget...so you can camp in our full service campground or stay in a variety of comfortable guest accomodations.
You'll love the "old baja" style of Mexican hospitality and make lots of new friends whether you arrive by road, air or sea. Check out the "What's New in Asuncion" page for up to date road conditions and fishing reports.
Don't hesitate to contact us with any questions you may have about our area so you can plan your visit well to really enjoy your stay.
We have a U.S.A phone # 619-906-8438
or email This e-mail address is being protected from spam bots, you need JavaScript enabled to view it
or in mexico call 615-160-0289 or cell: 615-155-7197
here is our location on a google map http://goo.gl/maps/8USX

Click Here To View Our Bahia Asuncion Slideshow!

This website is an ongoing project that will be updated regularly and new features added. We thank you for your support and look forward to seeing you soon down here in our little paradise well off the beaten path.
Juan & Shari